My family always drinks wine during religious observations, whether it's a baptism, Easter, or Super Bowl Sunday. This year is no different even though the Giants are not playing (I guess God found the New Jersey tithes a little light).
The congregation is meeting at my house this year. That's what happens when you draw the short straw (see illustration 1). We will gather around the 60″ LED 1080i high-definition altar with a glass of wine and watch colossal men try to maim and kill one another. It falls on me to pick the perfect wine to pair with this joyful occasion.
What is the calling, the hidden force, the innate primal drive that makes violent sports so appealing to men? Can anyone explain the macho impulses that drive men to create life threatening competitions like the Super Bowl, cliff diving and beer pong?
Read More
Chapter Three, Part Four.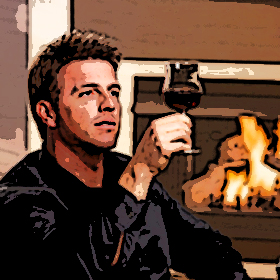 The first step of wine analysis is to take a good look at your wine. For this you will need an acceptable wine glass. You may be emotionally attached to that old Flintstones tumbler you've had since grade school, but it's time to buy some nice stemware and part ways with Fred and Barney.
A good-sized, tulip-shaped glass with a thin rim will do nicely for most wines, providing it is clear. Avoid glasses that are tinted or painted. I'm sorry gentlemen but the logo of your favorite sports franchise may be appropriate glassware for the man-cave, but it's unacceptable on your wine glasses. I know you're reluctant to give up the team logo but if your wives were on the Pulitzer Prize committee, this stipulation would make Wine Snark a shoe-in for the award.
Read More