Chapter Six, Part Two.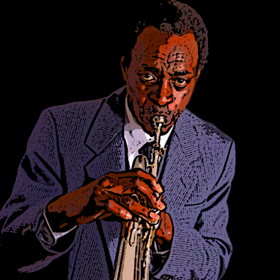 Americans often have difficulty with the vocabulary of wine analysis, which is odd as we seem to have no problem talking about our "feelings". We've become so sensitive that I often well up with tears just watching a Hallmark commercial and something really emotional can send me to bed for a week, say something like picking up the check.
When it comes to describing wine our vocabulary is often limited to "I like it" or "I don't". The French on the other hand, have no difficulty when it comes to expressing their feelings about wine. Perhaps that's because the language of wine is much like the language of love; it's euphemistic, metaphoric, similecious, and pornographic.
Read More
Chapter Eight, Part Three.
One + One = Three (The Synergy Of Umami).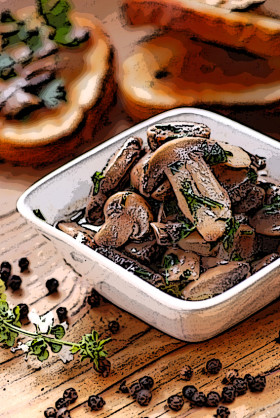 The subtle, savory fifth taste known as umami was first identified by Japanese scientist Kikunae Ikeda in 1907. In researching umami he discovered that it was linked with the amino acid glutamate and his investigations led to the development of monosodium glutamate (MSG) as a flavor enhancer. I could feed you lots of material about the development of umami-rich MSG but you would just be hungry for more in an hour.
The umami tsunami began in earnest six years after Ikeda's discovery when his follower Shintaro Kodama learned that glutamate, when combined with nucleotides, creates a dramatic flavor enhancing synergy. For example, when meat (high in the nucleotide inosinate) is combined with glutamate-rich foods like tomatoes or cheese, a significant umami boost is created. To understand the power of this synergy, think of the flattering outcome when you add cheese to a hamburger or braciola to tomato sauce (or as we say in New Jersey, you put the bruh-johl in the gravy).
Read More
Chapter Two, Part Five.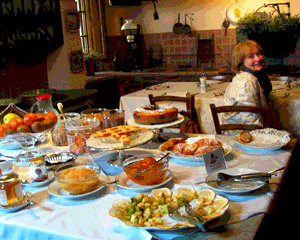 Experts have long believed you only perceive four tastes – sweet, sour, salt and bitter – but another taste was identified in Japan over 100 years ago that has only recently gained acceptance in gustatory circles worldwide. Umami is a subtle taste that's easily masked by more assertive flavors. It is best described as meaty, satisfying and rich, which sounds kind of like the perfect date.
Western palates are generally unaccustomed to recognizing umami so don't lose any sleep if you find it illusive. When I first learned of umami I undertook a grueling exploration that increased the scope of my taste nearly as much as it increased the scope of my waist. Believe me, it's not the first time I've had to buy a few belts for this blog.
Read More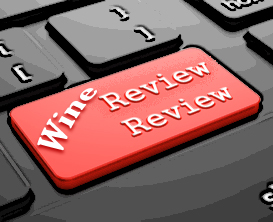 WineSnark recently turned four months old and as I looked over the results I found a few surprises. I learned that my favorite posts are not always your favorite posts. Where I like the snarcastic posts such as "Wine Gladdens The Heart Of Man" or the creative posts like "The History Of Wine And Food Pairing" many of you preferred posts that featured wine reviews – like "Spot The Frog".
Oddly enough I've often been told "I didn't know WineSnark reviewed wines" and those who did read the reviews often remarked "Maybe WineSnark shouldn't review wines."
For those readers who never get to the bottom of the page where the wine reviews are usually located I've decided to create a new feature called "The Wine Review Review." Every few months I'm going to present the best wine descriptions from recent WineSnark reviews, but rather than bore you with the same redundant language found in every other blog or wine magazine I've distilled these down to their snarky core.
Without further ado here are,
30 Wine Descriptions You'll Never Read In The Wine Spectator
Read More
Chapter Twelve, Part Seven.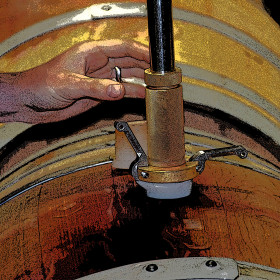 Once wine has fermented in a barrel, or been transferred into a barrel for aging from a fermentation vessel made of stainless steel, cement, or your bathtub, sediment will gradually form and settle to the bottom. If this thick, burgundy-hued sludge isn't separated from the wine it could end up in your wine glass. Then it would only be a matter of time until Riedel introduced a line of spoons to go with their stemware.
To get rid of sediment and other unwanted byproducts, most wine is racked, fined and filtered before bottling.
Read More