Today's post has nothing to do with wine but I promise to get back to wise-ass wine appreciation with my next post. This is part two of a true story about assassination, Nazis, and the de-evolution of truth. SPOILER ALERT; you may want to read part one HERE first. All photographs ©1981 Donald Carter.
The De-Evolution of Truth
"It was a bright cold day in April, and the clocks were striking thirteen." ― George Orwell, 1984
May 1981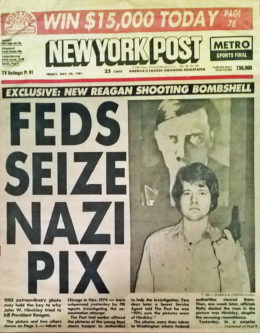 The phone rang at dawn and as I pulled the receiver close a metallic shout from the caller jolted me upright and awake.
"FEDS SEIZE NAZI PIX!"
"Wha …?"
"The New York Post. Front page. FEDS … SEIZE … NAZI … PIX!"
Five minutes later I stood sockless at the corner newsstand, scrutinizing the front page of the New York Post. Two familiar Nazis stared back. Adolf Hitler's portrait hung in the background, his stare intense and chilling. A young neo-Nazi with a raised pistol in hand stood in the foreground, his expression unreadable and lifeless – but no less chilling. My eyes went to the photo credit beneath the picture where I found my name.
Read More
Today's post has nothing to do with wine. It's a personal memoir about an event that happened over thirty years ago. It's the story of a presidential assassination attempt, the American Nazi Party, and personal regret. In light of recent events it seemed an appropriate time to tell the tale. All photographs ©1981 Donald Carter.
Of White Power and White Guilt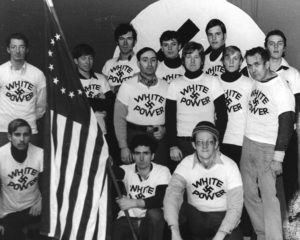 As a younger man I seldom gave thought to motivation or consequence. I felt compelled to take risks – to seek out the dark places and walk with the beasts – but the nearest I got to reflection was when I inevitably picked myself up, checked for injuries and wondered, "What the hell was I thinking?"
As an older man I've struggled with the emotional fallout that comes from second-guessing ones actions but despite some feelings of regret, I believe my raison d'être was well intentioned. I like to think I climbed under the bed in the middle of the night, faced the monsters and dragged them into the light so that we might all better understand the hatefulness that grows in the shadows we choose to ignore.
When I was a freshman at the School of the Art Institute of Chicago I set out to expose these darker places. Little did I suspect that the images I captured would one day attract international attention and the FBI, subpoena in hand, would come looking for the monsters I uncovered.
More on that later.
*****
Read More