Today's post has nothing to do with wine but I promise to get back to wise-ass wine appreciation with my next post. This is part two of a true story about assassination, Nazis, and the de-evolution of truth. SPOILER ALERT; you may want to read part one HERE first. All photographs ©1981 Donald Carter.
The De-Evolution of Truth
"It was a bright cold day in April, and the clocks were striking thirteen." ― George Orwell, 1984
May 1981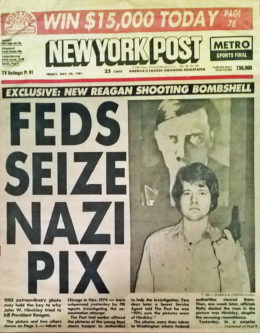 The phone rang at dawn and as I pulled the receiver close a metallic shout from the caller jolted me upright and awake.
"FEDS SEIZE NAZI PIX!"
"Wha …?"
"The New York Post. Front page. FEDS … SEIZE … NAZI … PIX!"
Five minutes later I stood sockless at the corner newsstand, scrutinizing the front page of the New York Post. Two familiar Nazis stared back. Adolf Hitler's portrait hung in the background, his stare intense and chilling. A young neo-Nazi with a raised pistol in hand stood in the foreground, his expression unreadable and lifeless – but no less chilling. My eyes went to the photo credit beneath the picture where I found my name.
Read More