Chapter Nine, Part One.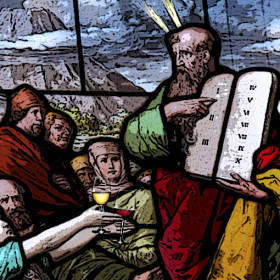 In the beginning God said, "Let there be white." And there was white.
And God tried the white, and it was good. And God divided the white from the red, and God was pleased when Robert Parker rated them both 90 points.
And God formed Adam and Eve and placed them in the Garden of Eden.
And Adam said unto Eve, "God has blessed us with both white and red. Hast thou chosen one to compliment this apple?"
"Thy yonder slithering-sommelier suggests Zinfandel," said Eve.
"That's original, Zin!" cried Adam.
And so it began, the age-old debate over which wine to serve with dinner. To guide the perplexed people through this culinary quandary, rule-makers stepped forward and created The Rule. They righteously preached that wine and food pairing is done with your eyes and not your mouth, for they looked at wine and decreed; White wine with fish. Red wine with meat!
Read More
Franco Biondi Santi Remembered.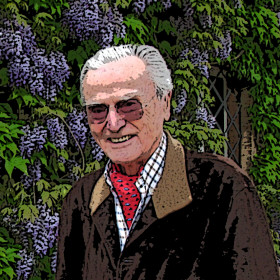 If you know of Brunello di Montalcino, the Tuscan benchmark for world-class wine, it is due to the efforts of Franco Biondi Santi and his family. The stately "gentleman of Brunello" passed away in April of 2013 at the age of 91, less than a year after we met at his beloved ancestral estate Tenuta Il Greppo.
To arrive at his home, we passed through a majestic evergreen tunnel of 300-year-old cypress trees and I found myself wondering how many before had traversed this narrow tree-lined lane. In Mr. Biondi Santi's autobiography he recounts his perilous trip home from the French border during World War II. "In my mind's eye" he wrote, "I can still see my father waiting for me at Il Greppo as I walk down the cypress-lined avenue."
Read More
(The Liver … Not So Much)
A couple of weeks ago I asked, "What is it about wine that has stirred the human spirit for so many centuries?" There are those who say wine is like a religious experience because, much like sitting in church, it can make you drowsy. There's something else that draws us to wine that seldom gets mentioned in magazines or newspapers unless Lindsay Lohan is involved.
Early man discovered that grape juice, when exposed to yeast, ferments into alcohol. Now let me hear you say hallelujah brothers and sisters because to my mind the discovery of fermentation ranks right up there with the wheel, the lever, and squeeze bottle catsup.
Alcohol stimulates the accumbens nucleus, which is the part of your brain responsible for pleasure, laughter, aggression and fear, or as I like to call it, a typical weekend with the in-laws.
Read More
Chapter Sixteen, Part One.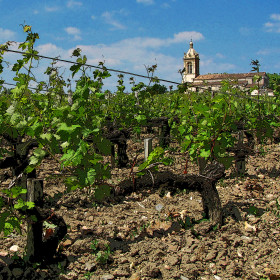 In the heart of Bordeaux wine country and just a short bicycle ride from the medieval village of St. Emilion sits the family run Chateau Cantenac. My wife Caroline and I dismount and are warmly greeted by the matriarch-owner of the estate, Nicole Roskam-Brunot and her son Johan. Strolling through vineyards first planted by his great grandfather, Johan remarks, "Change comes slowly to these vineyards. Twenty years is a very short time in St. Emilion."
Read More
This is a bottle of 1982 Chateau Margaux. It is the rarest and most expensive bottle of wine in this picture. Its life is in danger and only you and a few thousand of your friends can save it. To find out how you'll have to read this blog….
Robert Parker, the great and powerful wizard of wine, has taken his leave somewhere over the Alsace Lorraine-bow, passing the batonnâge to a new generation of wine bloggers. I only mention this because you should know I'm not some mercenary wine blogger trying to take advantage of Parker's departure from The Wine Advocate. I wouldn't stoop that low. No, I write about wine for the money, even though writing about vin de pays very little.
Truthfully, it's not really money that I need, but a platform. At least that's what my friends in publishing tell me. Apparently it's not enough to write about wine; people actually have to read what you write if you want to get published. Who knew?
What's more, it doesn't matter if your writing is good, what matters is how many "followers" or "friends" you have that "like" you. Becoming a wine blogger is like joining some weird cult. It starts with drinking wine but I suspect it ends with drinking the Kool-Aid.
Read More