Wise-Ass 101 or How I Found My Voice.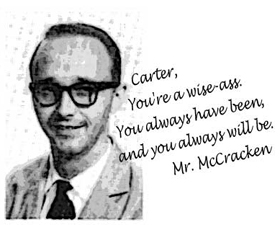 I don't know how they know these things, but when my brother was born the doctor told my mother he would grow up to be very tall. When I was born he told my mom I would grow up to be a wise-ass.
In hindsight it shouldn't have come as a surprise when I recently realized the truth in something a wise man said to me many years ago. That man was Mr. McCracken, my seventh grade science teacher, and what he said was, "Carter, you're a wise-ass. You always have been and you always will be."
You know what a wise-ass is, don't you? He's the guy who always has the snarky answer – the smart-alec, the class clown, the wisenheimer. McCracken had me pegged on the first day of class. We engaged in many battles of wit, but to level the playing field I fought with my right brain tied behind my back.
Read More
Can't You Feel The Algorithm!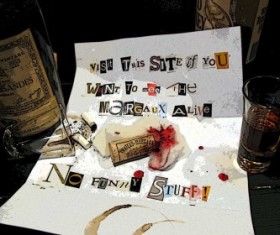 This cork is from a precious bottle of 1982 Chateau Margaux. If yous wants to see the rest of this bottle alive, yous better follow this blog, cause if it don't have 100,000 visitors within one year, the Margaux meets its maker – and I ain't talkin' about Corinne Mentzelopoulos…
I've come to the conclusion that I have to embrace this whole blogging idea if I plan on attracting enough followers to get noticed by a bona fide book publisher and save my bottle of '82 Margaux from a horrible end.
You're probably thinking, "Why bother with a traditional publisher. Get with the times, self-publish, write an e-book, create a podcast then shut up and drink your fancy-schmansy wine."
Let me explain why that's not a viable option. Technology makes me break out in bytes. Lots of them – I'm talking megabytes.
Read More
This is a bottle of 1982 Chateau Margaux. It is the rarest and most expensive bottle of wine in this picture. Its life is in danger and only you and a few thousand of your friends can save it. To find out how you'll have to read this blog….
Robert Parker, the great and powerful wizard of wine, has taken his leave somewhere over the Alsace Lorraine-bow, passing the batonnâge to a new generation of wine bloggers. I only mention this because you should know I'm not some mercenary wine blogger trying to take advantage of Parker's departure from The Wine Advocate. I wouldn't stoop that low. No, I write about wine for the money, even though writing about vin de pays very little.
Truthfully, it's not really money that I need, but a platform. At least that's what my friends in publishing tell me. Apparently it's not enough to write about wine; people actually have to read what you write if you want to get published. Who knew?
What's more, it doesn't matter if your writing is good, what matters is how many "followers" or "friends" you have that "like" you. Becoming a wine blogger is like joining some weird cult. It starts with drinking wine but I suspect it ends with drinking the Kool-Aid.
Read More