Chapter Thirteen, Parts Three, Seven & Eight.
Different wine regions use barrels of varying size to fit their needs (and maybe their warehouses). The volume of the popular Hogshead barrel seems to vary with every industry, but for wine it has come to mean a 63-gallon barrel, while the uniquely named butt barrel holds two Hogsheads or 126 gallons. The winemakers of Bordeaux find a barrel holding 59.4 gallons is perfectly suited for Cabernet and Merlot based wines. In Montalcino, where tradition dictates that Brunello di Montalcino be aged in cask for three years, wine is matured in large Slovenian casks called botte, or the plural botti, a term presumably derived from butt (those are 6 words I never imagined myself writing). Smaller barrels have a stronger impact on wine, so most Brunello producers use botti because they feel three years aging in small casks would produce overpowering oak flavors in the finished product.
The winery owner said to his winemaker, "This wine is completely over-oaked! It tastes like vanilla extract, it's too sweet, and lacks any sense of terroir! Congratulations, it will be a huge success!"
Read More
Chapter Thirteen, Part Five.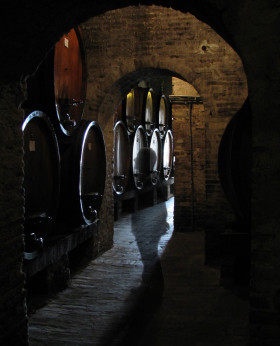 Centuries ago, Cognac producers learned that impermeable oak barrels were very good for keeping spirits in, but not very good at keeping spirits out. When cellarmasters discovered their precious product was disappearing from the barrels locked in their basements, they came to the logical conclusion that angels must be visiting the cellars and drinking from the heavenly casks. The missing portion became known as "la part des anges" or the "angel's share". I think most Cognac producers believe the 2% to 4% that disappears every year is fair compensation for the angel's empyrean influence on their maturing brandy.
Two to four percentage points might not seem like much but it adds up over time. A single Cognac cask holds 263 bottles when full. Sixty years later the angel's share will reduce that by 83 bottles, or approximately half the Cognac Busta Rhymes and Snoop Doggy Dog drink on Tuesday night. On the bright side, Cognac producers don't have to pay tax on the missing spirit, leaving me to wonder; what does a line item deduction for angel's consumption look like on a tax return?
Read More
Chapter Thirteen, Part Four.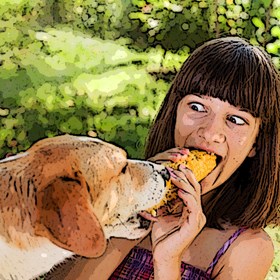 Not long after Kikunae Ikeda discovered umami, a French physician by the name of Louis Maillard (pronounced my-ARD) described the chemical reaction that takes place when amino acids combined with sugar are exposed to heat. This transformation, once known simply as browning, is now called the Maillard reaction. (It is rumored the original name, browning, was named after Maillard's cook, Dorothea Brown.)¹
The Maillard reaction is what turns toasted bread a golden brown and creates the seared crust on protein rich foods like steak or chicken. I think my neighbor was grilling some protein rich food last night because I heard him say, "Hey Carter. Get your dog out of Maillard!"
Read More
Chapter Thirteen, Part Two.
"Oak is here and it will be with us for at least the remainder of the current generation—a generation that has been carefully taught that if a little oak is a good thing, a lumber factory is wonderful." Dan Berger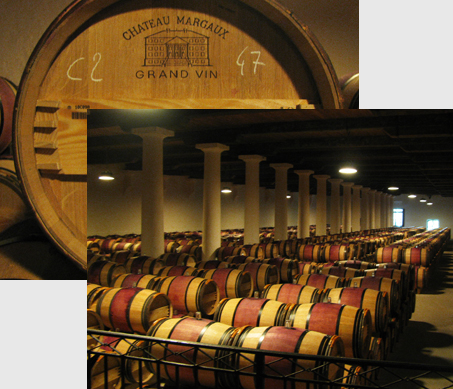 Wood barrels have been used by the wine trade for over two thousand years, but just over a century ago astute winemakers recognized the transformative effect that oak has on wine and they began to look at barrels as more than storage vessels. Over time, patient old-world vignerons learned that the species of oak, outdoor seasoning, the degree of toasting over fire and the time spent in barrel all bear heavily on how oak "flavors" wine. They learned that one type of oak may add spicy allspice and cinnamon nuances while another may add a smoky bacon flavor. I don't know about you but I'd eat my left foot if it had a smoky bacon flavor.
Read More
Chapter Thirteen, Part One.
"Oak in wine should be like a ghost in a chateau; you sense its presence, but you don't actually recognize it." Pierre Seillan
Before his untimely death in 2002, I had lunch with Bruce Guimaraens, the fifth generation winemaker for the esteemed port houses Fonseca and Taylor-Fladgate. Guimaraens was the great, great grandson of Manoel Guimaraens, who founded Fonseca-Guimaraens in 1822. I probably think being a great, great grandson is a big deal because I was never a great, great grandson; I was just an average great grandson.
Read More